I hate traffic. Mostly I just hate driving, but a bunch of other cars makes me really nervous. I do fine on highways where the biggest problem is finding the next rest stop. Driving for 4 hours isn't bad – if you GET somewhere at the end. In LA, you can drive (read: sit in the car, barely moving) for over an hour and go 20 miles…or less. 20 miles was just my experience today. Driving in traffic is horrible for me. I'm really jumpy around cars. I wear a helmet when I bike to school and everything. Whenever I'm driving and someone honks, I freak out. Even if I know they weren't honking at me. Even if they're going in a totally different direction. Even if I want to honk at whoever's causing the problem too.
I posted it before, but xkcd has the right idea about cars: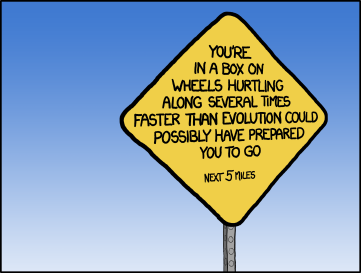 I was thinking today, that some aspects of Mario Kart would be useful in real life. Not the Rainbow Road of course, where you fall off the road into the abyss every 20 seconds, but some of the items would be quite nice. Invincibility Stars, for example. Then I wouldn't have to worry when I'm merging if the car in the next lane over also wants to merge into the lane. And so I could plow through traffic when I'm late for something. The bananas would be great for when that guy keeps tailgating you even though there's nothing either of you can do to speed up. The mushrooms that give a burst of speed would be nice on highways with no traffic, but you'd probably get a speeding ticket. Besides, when are there ever few enough cars on LA freeways to make that plausible?
However, not all the stuff in Mario Kart would be even minimally beneficial. The Blue Shells that take out the person in first place would just cause a traffic jam from people slowing down to look at the pile-up created by the giant explosion around the first car. The green shells are not that useful even in Mario Kart world, and they would just create more havoc without getting enough people out of the way.
I really hope the physicists/engineers get teleportation working soon. It would make things so much easier. Get on that, science!